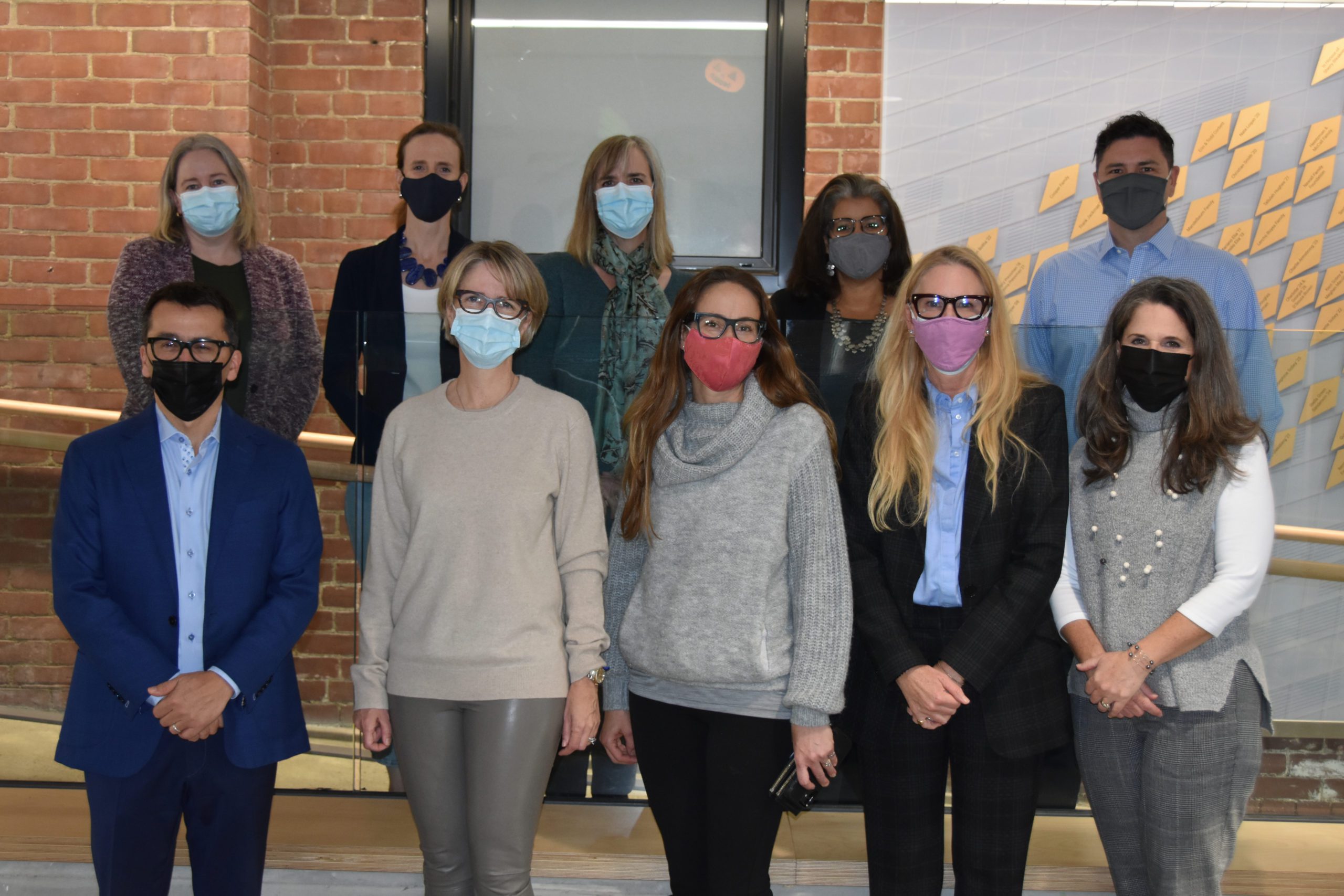 * Photo of the 2021-2022 Board*
Top (left to right): Joanna Clark Theriault, Cynthia Eldridge, Alison Holt, Ruth Goba, Paul de la Roche.
Bottom (left to right): Kevin Kimsa, Molly Pocklington, Isabelle Bissonnette, Kathryn Finn, Donna Lindell.
Missing: Sarah Lerchs.
Kathryn Finn | Interim Chair and Treasurer
Kathryn is a Portfolio Manager at RBC Dominion Securities. All three of her children graduated from Montcrest. Kathryn was a very active parent volunteer, having chaired Montcrest's 50th anniversary gala and helping to organize several Fall Fairs.
Isabelle Bissonnette | Vice-Chair
Isabelle is currently Senior Director at CIBC, leading a team accountable for change management, data analytics and the introduction of process automation for the organization's wholesale and cross-border payment operations. Isabelle has over 20 years of leadership experience, in financial services, management consulting and technology development. For 10 years, Isabelle has been a member of the board of directors of a not-for-profit French language day care, La Garderie La Farandole. Isabelle and her husband Ian Butler have 3 children, Sarah (Montcrest alum), Charles (current Montcrest student) and James (future Montcrest student).
Molly Pocklington  | Secretary
Molly is a clinical social worker (MSW, RSW Psychotherapist) in private practice. Her area of expertise is eating disorders. Much of Molly's work revolves around family support. Molly has two children who both attended Montcrest.
Cynthia Eldridge
Cynthia is a consultant in international healthcare and development. She was previously Associate Director of Marie Stopes International's Health Markets team based in Nairobi, Kenya. Cynthia has two sons at Montcrest, in Grade 3 and Grade 6. She is a past Montcrest student herself, and her mother, Betsy, has served on Montcrest's Board as well.
Paul de la Roche
Paul has two kids at Montcrest, in Grade 3 and Grade 7. Paul is an investment counsellor with Fiera Capital, providing investment counselling to families, endowments & foundations. This is Paul's second year as a member of Montcrest's Board of Governors and third year as a member of the Advancement Committee.
Ruth Goba
Ruth graduated from Osgoode Hall Law School in 2000 and was called to the Bar in 2002. After law school, Ruth worked abroad for an international NGO that focused on economic and social rights, and for the United Nations Special Rapporteur on Housing. She worked in private practice as a human rights lawyer and then moved to the Centre for Equality Rights in Accommodation, where she was Executive Director from 2007 to 2009. In February 2015 she was appointed Interim Chief Commissioner in the province. In 2016, she was cross-appointed to the board of the Human Rights Legal Support Centre, and in 2017 was appointed as a mediator and adjudicator with the Human Rights Tribunal of Ontario. Her most recent position was as the founding Executive Director of the Black Legal Action Centre, a community legal clinic with a mandate to challenge individual and systemic anti-Black racism. She and her husband live in Toronto with their three young daughters.
Alison Holt
Alison Holt is the Managing Director of Offord Group and Senior Consultant and Principal at Marts & Lundy. Before joining Offord, Alison was the Vice-Principal of External Relations at Greenwood College School for eight years. Alison was responsible for the school's fundraising, brand development, communications and marketing, admissions and recruitment. Alison began her career more than 20 years ago at her alma mater, Queen's University. She currently sits on the Board of Trustees, the University Council Executive, and the External Relations and Development Committee of Queen's University. She is also a member of the Child Development Institute Foundation and is the former Vice-President, Communications of Canadian Council for the Advancement of Education.
Kevin Kimsa
Kevin is married (Mandi) with 6 children, two of which are at the school in Grades 3 and 7. Kevin is a Managing Partner at ScaleUP Ventures and Climate Innovation Capital. Prior to venture capital, Kevin co-founded and operated 3 technology companies dating back to 1993. He currently serves on the board of numerous technology companies in Canada and the US. Previous board seats include the Toronto East General Hospital, Canadian Stage Company and Variety Village.
Sarah Lerchs
Sarah and her husband, JD Boyes, have two children at Montcrest (Austen – Grade 8 and Dryden – Grade 5).  Sarah is the Vice President and General Counsel of The Woodbridge Company Limited, the principal investment vehicle for members of the family of the late Roy H. Thomson.  Sarah previously served on the boards of the Whitney Child Centre and Youth Without Shelter.
Donna Lindell
Donna Lindell is professor and program coordinator for the award-winning post-graduate public relations program offered at Centennial College in Toronto, Canada. During her nearly 10 years of teaching, Donna has taught Professional Practice, Social Media, Business, Communications Management, Strategic Communications Planning, and Project and Event Management. Donna was named one of Canada's Top 40 Under 40 in 2003 for her career achievements. She holds a Bachelor of Journalism from Carleton University in Ottawa and a Masters of Public Relations from Mount Saint Vincent University, Halifax. In 2019, she was awarded Educator of the Year by the Canadian Public Relations Society. Donna has two boys who went to Montcrest: Jon (2019) and Henry (2021) and is married to Andrew, a scenic carpenter for Toronto's thriving film industry. 
Joanna Clark Theriault
Joanna has a daughter in Grade 8 at Montcrest and another daughter who graduated from Montcrest. She is a CPA, CMA who worked in the not-for-profit and retail sectors prior to taking a number of years out of the workforce. More recently she retrained in design and project management fields and has returned to work in the healthcare sector. This is Joanna's second year as a member of Montcrest's Board of Governors and third year as a member of the Finance Committee.