The Taber Tuck Shop & Uniform Guidelines
Montcrest has three uniform variations; Formal, Everyday and Gym uniforms. In addition to these we have Spirit Wear items that can be worn in conjunction with each of the three variations during Spirit Days or at recess. Note that hats of any sort may only be worn outside and are not permitted in class.
The schedule for when each uniform may be worn is as follows:
Formal Uniform – Will be worn on special days such as Remembrance Day, etc. and on field trips (as appropriate). Families will be given ample notice of Formal Uniform days.
Everyday Uniform – Can be worn at all times with the exception of Formal Uniform Days
Gym Uniforms- The only variation between the Gym Uniform and the Everyday Uniform is that athletic shoes must be worn.
Spirit Wear/Swag – Can be worn on Spirit Days and at recess
Below is a chart which delineates the Formal, Everyday and Gym Uniforms. If you have any questions of concerns about the uniform, please contact Carrie Weston at cweston@montcrest.ca.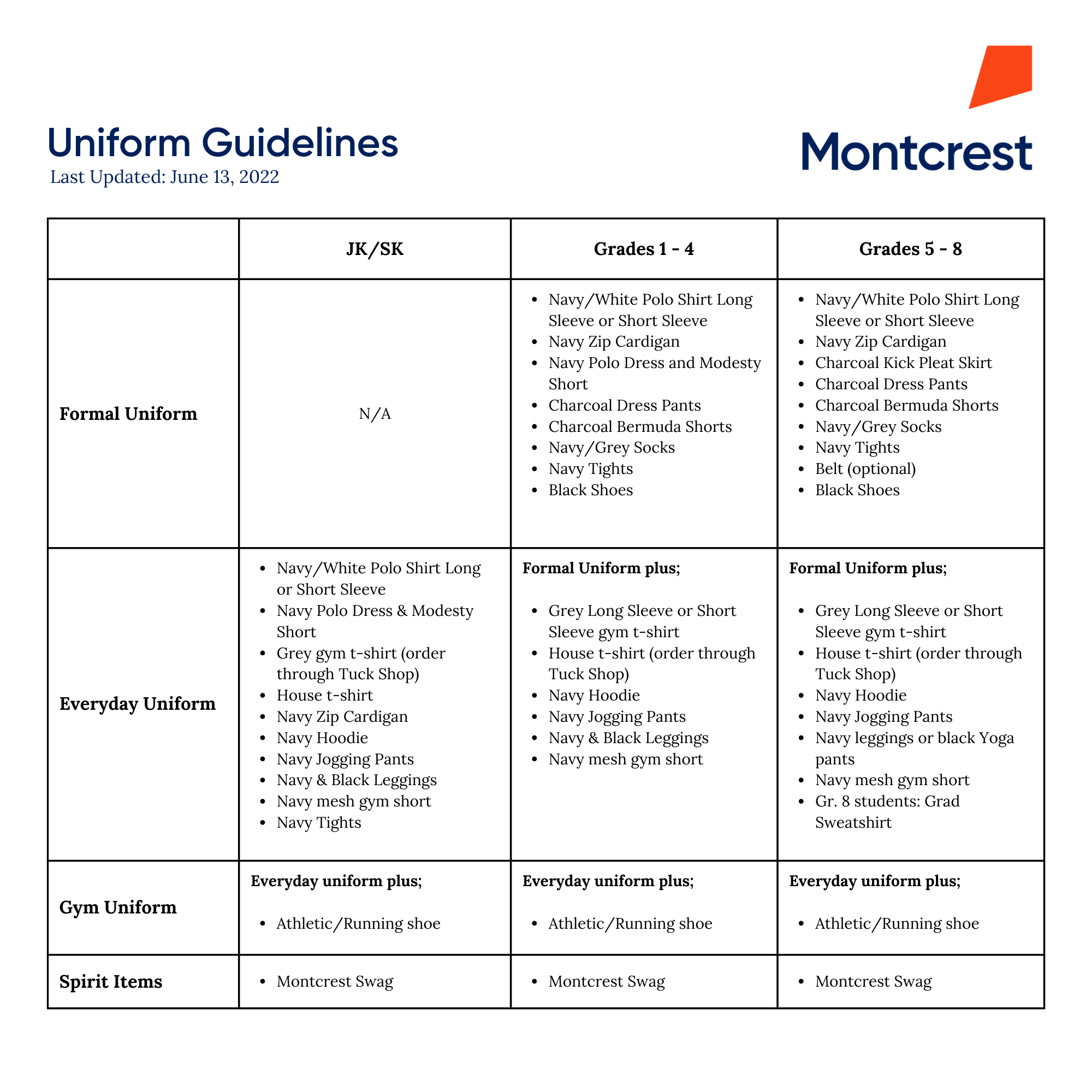 Top Marks Ordering & Key Contacts
Montcrest's uniform ordering is completed online, easy to do, and items will be shipped to your house from Top Marks (our uniform provider).
Order online with

 

Top Marks.

Please note our school code is

MCS01. 

 
Key contacts: 
To visit our uniform FAQ click here.
Used Uniforms
We are working with community partners to share our older, green uniform items with communities in need. We will also be reusing and recycling these materials.
Families are welcome to drop off their used uniform donations to Montcrest:
Please wash and bag all used uniform items.

At your convenience, please feel free to drop off used uniforms at 658 Broadview Avenue or at 4 Montcrest Boulevard. Staff will regularly collect the bags and keep them safely for our community donation or future used uniform sales.
The MPA will be holding dedicated Used Uniform Sales on the following days:
Date

Time

End of Term 1:

December 13th and 14th (Coincides with Winter Concert)

1:30 p.m. – 4:30 p.m.

End of Term 2:

March 1st (Coincides with Parent/Teacher Meeting)

9:00 a.m. – 4:00 p.m.

End of Term 3:

May 17th (Coincides with Coffee Morning)

8:00 a.m. – 10:00 a.m.